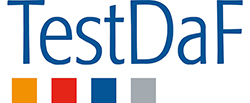 The test centre at the Technical University of Sofia is the first and largest test location in Bulgaria.
The exam lasts from 8 a.m. to 12.40 p.m. The maximum number of candidates is 100. You can prepare for the exam and / or take a mock exam. Every spring and every autumn new model sets of the TestDaF exam are tried out for the TestDaF Institute (only 40 participants). The range of preparatory courses on offer varies. Lessons usually take place on weekends and, if necessary, during the week. B2 German courses are also offered.
COURSES
The following courses are offered in-person, online or combined.
EVENTS
Exam preparation schedule and announcement of results.
EXAM FEES
There are two options for paying the exam fee. After the online registration via the TestDaF Institute:

Paying the exam fee of 290.00 lv. at the test centre.
Payment online by credit card upon registration
Sample exercises for reading comprehension, listening comprehension, as well as written expression can be downloaded here.